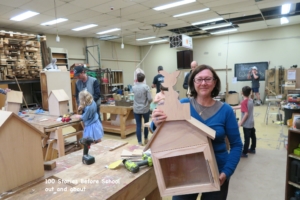 I've just completed  a workshop at Street Library Australia with  expert help from Nic,Stephen, and other attendees.
Ready to go were Dads with their kids,a teacher, and some enthusiastic other ladies. It was a breeze and a lot of fun.
All the materials had been pre cut, we just needed to learn how to use a nail gun (not the kids though!), and made it in only 4 hours (or less if you're a whiz , not a beginner like me).
I took along a 100 stories kangaroo logo and Stephen carefully cut it out for me.It looks fantastic!
Next step:paint and install it by our front gate.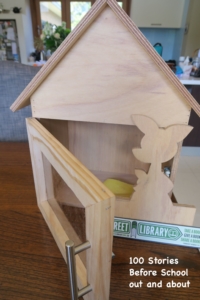 Other ideas:
get a cheap solar panel with fairy lights
or one that could light up the inside of the library.
It was fabulous to see families excited to put one up.It's a simple way to share books,value literacy and connect communities.
Early Education Centres
If you're an early education centre why not:
make one yourself (instructions on the site)
or go along to the next workshop in Redfern, Sydney
a clever idea is to make or buy a stand on castors so you can move it around. Your families and staff can share and chat about their favourite books.
I've started going to book fairs to load the library up – the idea is to swap a book for a book.
There will be a mixture of adult books and childrens books, always with some books for those essential years before school.
Maybe we'll also do a library launch- that now would be fun!Watch this space….