There are many wonderful Preschool Christmas books you can share before Christmas.
Find many here from  our 2015 100 Stories Christmas Stories Booklist .(Click on the link halfway down the page.)
Here are resources for some of these well loved stories.
Christmas Wombat by Jackie French and Bruce Whatley. Harper Collins

.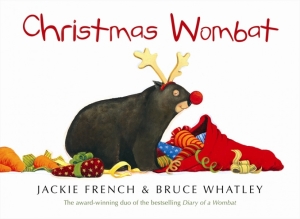 "Christmas comes but once a year, and it's just as well for Santa's reindeer, who have to fight with Mothball for the carrots left out for them by the local children. And when Mothball takes an unexpected sleigh ride, it's not just Santa who faces the prospect of getting stuck in the chimney. "(Harper Collins website.)
My Little Bookcase made cute lamington wombats with strawberry hats to leave for a Santa snack. (As well as the carrots!)
Childhood 101 suggested making reindeer biscuits and reindeer food.The reindeer food is all sparkly to sprinkle on your lawn at night, fantastic to help children's imagination.
The publisher has teaching notes. http://static.harpercollins.com/harperimages/ommoverride/christmas_wombat_teaching_notes.pdf
GroovyJoss has a clear reading of Christmas Wombat if you can't find the book.
I Love Christmas by Anna Walker.Scholastic.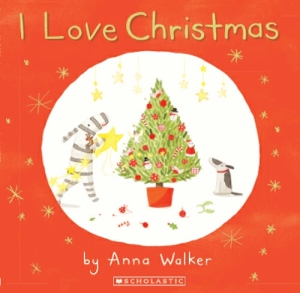 "Meet Ollie — a gorgeous, lively zebra — Fred the dog and all of Ollie's friends. Ollie loves wrapping presents, making decorations and listening for Santa's sleigh bells!" (From Scholastic website)
The Little Big Book Club has a easy downloadable Christmas Tree to colour in and make.
The Snowman by Raymond Briggs. Penguin UK .
This wordless book is a loved book of children since 1978. A little boy befriends a snowman. "One winter's night, a snowman comes to life and an unforgettable adventure begins. Raymond Briggs' favourite classic is a true piece of Christmas magic – narrated entirely through pictures, it captures the wonder and innocence of childhood and is now recognised throughout the world."  (From Penguin website 
Runner up of the Kate Greenaway medal.
Find beautifully illustrated activities at the Snowman stories website.Older children could help younger ones with the trickier activities.
http://www.thesnowman.com/activity/
Easier ones are:
Snowman garland, Snowman mobile- help needed with cutting out the figures for younger children.
Yummy Marshmallow snowmen
Snowman Globe (trickier but looks gorgeous when finished) It would be helpful if you had a laminator but sticky tape would work as well.
Sewing card cutout (of the Snowdog, from another Snowman story)
The Little Big Book Club has many ideas from families and playgroupers. Some of the ideas were:
Sparkle snow paint
Cut out snowflakes
Make an Australian "sandman" instead of snowman
Salt dough decorated snowmen
Sparklebox has a page of activities including masks to retell the story.
Pinterest has a page based on the book with heaps of snowman, snow and ice activities.The snowman made out of egg cartons and cotton wool buds would be easy for younger children as well.And if you have paper plates lots of snowman ideas.
tinyartroom has a clever craft activity to make snowmen looking down from above- good for maths language as well.
We love this short animated clip of parts of the story.To the tune of "Walking in the air", kids will feel they are flying with the snowman and little boy across the world.
Slinky Malinki's Christmas Crackers by Lynley Dodd. Penguin NZ.
" Festive preparations are being made in Slinky Malinki's house and the rapscallion, mischievous cat is most curious about the Christmas tree. With its reindeer, ribbons, baubles and bells, it's too tempting a treat for Slinky not to investigate." (From Penguin NZ).
Here's a great opportunity to make Christmas decorations and crackers.
You could also use salt dough to make decorations. My son is 33 and we still have the decorations he made as a pre-schooler.
I think the recipes that have a higher amount of salt give a better result.The more salt, the more sparkly the result, especially if you do not want to paint the ornament as well.
Our next post will have more linked Christmas books and activities.