Janeen Brian and Marjorie Crosby Fairhall recently held one of the best story times we've been to.(Thanks to Paul Macdonald from The Children's Bookshop. (Recent winner of the 2016 Lady Cutler award)
Mrs Dog is a story built over many  years and experiences.Both its award winning author- Janeen Brian ( I'm a Dirty Dinosaur fame) and illustrator Marjorie Crosby Fairhall.( The Croc and the Platypus)have lived on farms.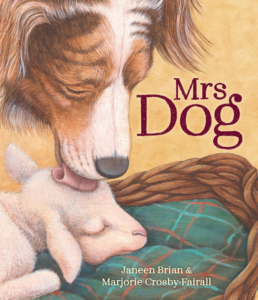 Mrs Dog, the old, ex working dog, now "only chases shadows."One day,(as on many farms) there is a small orphan lamb, that only Mrs Dog thinks can be saved.
When Baa Raa is stronger, Mrs Dog attempts to teach him about dog behaviours and dangerous places.But the day comes when it is Mrs Dog that needs help.Young Baa Raa has to be brave and somehow use what he has learned to get help.
The children listening were enthralled by the story reading ,absolutely quiet.When it came to a key page with no words,you could see them completely involved in the events.
My story starts with an "empty bag."
Janeen  explained  she thought of writing stories as starting  with an empty bag.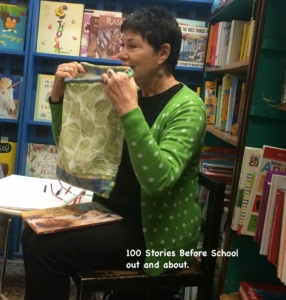 "I put into the bag things I've experienced and thought about until the bag is full.This story started 10 years ago!
First, a name went in the bag "Baa Raa" ( a friend and I were chatting and both liked the name)
I went to Te Puke,NZ to live for 14 months,things my husband told me about lambs and farm life went in
One day I saw an old lady , walking slowly, saying " Come on Mrs Dog,come on Mrs Dog". So Mrs Dog went in my story bag
Then, thinking about how people looked after eachother went in."
Along with "Mrs Dog", we meet "Baa Raa"," Tall-One","Tall -Two" " BeakyWings"and Woolly-Heads". Janeen thinks  the way characters are given "other names"  helps children's growing imagination.We agree,a  great thought provoker.After reading the book this would be a clever way of extending preschoolers thinking and language.
Marjorie – "someone who writes pictures".
Marjorie originally came from a background of a farm in California with a " Dr Dolittle"Dad and a household of animals.This included their big  rottweiler dog, who even rescued some mice from a flood.Later she lived out at Gulargambone in NSW, still with lots of animals.
Her pictures feel like " a warm hug" and are so tactile you want to stroke them.
A child aptly described her illustrator role as " someone who writes pictures." The colours of the farm, and the feelings of care and love of a older character for a much younger one, perfectly complement the text.This would be a perfect book for Grandparents to read, or to be read at Grandparent story times.Highly recommended for families,libraries,child care centres and playgroups.
Marjorie displayed some of her illustrations ,explaining  each one took a number of days and processes to complete.She makes roughs, then uses gesso,acrylic paint,  and sometimes colour pencils.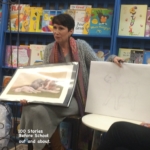 Find out more
Interview with Janeen Brian by small animal talk
Teacher notes from Lamont
Kids Book Review : meet the illustrator.
Explaining the illustration process- good examples of how the work grows and a range of Marjorie's illustrations.
https://kathytemean.wordpress.com/2015/02/07/illustrator-saturday-marjorie-crosby-fairall/
Other books about dogs in our 100 Stories Before School booklist
Family booklist
Early educator booklist
Banjo and Ruby Red by Libby Gleeson, illustrated Freya Blackwood. Hardie Grant Egmont.- also farm based.CBCA  honour book 2015 earlychildhood.
The Umbrella by Ingrid & Dieter Schubert.Book Island.
( above-both from 2016 Booklist addition)
Bark George by Jules Feiffer.Harper Collins.
Dog In, Cat Out by Gillian Rubenstein,illustrated Ann James.Scholastic.
Fearless (series) by Colin Thompson,illustrated by Sarah Davis.Harper Collins.
Good Dog Carl by Alexandra Day.Aladdin Paperbacks USA.
Hairy Maclary from Donaldsons Dairy ( and associated titles)by Lynley Dodd.Various publishers.
Harry the Dirty Dog by Gene Zion,illustrated by Margaret Bloy Graham.Random House Australia.
John Brown, Rose and the Midnight Cat by  Jenny Wagner illustrated by Ron Brooks.Penguin.
Some Dogs Do by Jez Alborough. Walker Books.
Other honourable mentions :
My Dog Bigsy by Alison Lester ( Ex Australian Children's Laureate). CBCA notable early childhood book  2016
Seadog by  Claire Saxby, illustrated by Tom Jellett. Random House Australia. Australian Speech Pathology award young children 2013.
The Spot stories by Eric Hill.Various publishers.