We've just taken part in the "Read Aloud Hour" in Australia with our little toddler grandson ( just 1 year old).
How did we choose books for a newly walking, book chewing,toddler ?
At times we only get 2 pages in, but it all adds up.
We looked for some books with:
interactions with babies/toddlers – preferably in photographs
new words about familiar things
nursery rhymes and singing
words he is saying
fun sounds
to encourage carrying around
without a lot of text
strong clear simple illustrations
His favourites!
Interactive and touchable books with babies illustrations.
Baby Faces Peekaboo, Noisy Baby Peekaboo, and Noisy Peekaboo woof woof.
Some of the best ones we have found so far are Dorling Kindersley board books -these have been really successful with him.
He loves the bright photographs of other children and the peekaboo format. The books are well designed- the children fill the page with a plain background with familiar daily events or toys.
Baby Faces Peekaboo has a mirror at the end and he puts his face right up on it.
The latest book has a musical sound and lift the flap sections. He just loves it!
For more, look inside the books at the publishers site( links above).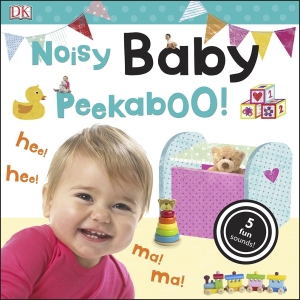 A book with holes for touching and learning new words.
Play and Learn colours, first 100 words Priddy Books.
This is a large book with: holes (different sizes), strong colours- a different one on each page, and clear photographs of single items. There are some sections with lift the flap or slide up and down sections.
It's just right to put down on the floor and has a colour wheel at the back to turn.
Published in Australia by Pan Macmillan.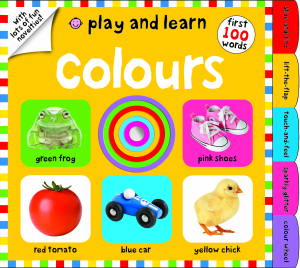 Tiny toddler nursery rhyme books.
I picked these up in a remainder sale. You can sing the short nursery rhymes. The book is just the right size for his little fingers to try to open the pages (which he is trying to do with every book now).They have also had a good chewing! He really enjoys carrying them around. I can only find them online now in a set.
Probably any short, smallish  nursery rhyme board book would do as well.
Childs Play have some good mid size ones such as "Row Row Row Your Boat"illustrated by Annie Kubler. It's one of a series of nursery rhymes.
Books with words he is saying.
Quite early on, he started to say sounds like " Oh, dear" which is what his Mum says.
So the next book by Rod Campbell is a winner – about a little boy going to collect eggs for his Grandmother going to all the wrong animal homes – we say "oh dear!" and turn the page to lift the flap to see the next one.
Oh dear by Rod Campbell, Pan Macmillan (Australia)
Mummyshymz has a book review showing the lift the flap format.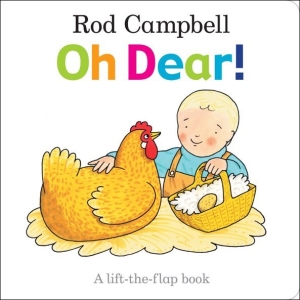 Books with fun sounds
A noisy book by Soledad Bravo, Gecko Press.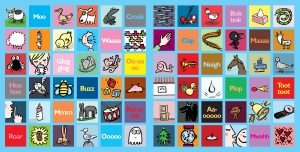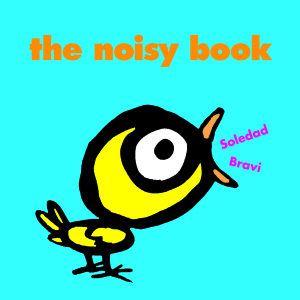 This 'little" board book has more than a 100 pages , so we read a few at a time ..The seagull goes waaawk….The bottle goes mmmmm….The spinach goes yuck! The donkey says hee haw!… The cold goes achoooo( He loves this one especially,)…         The power socket goes NO ( and we really need that one at the moment!)…"
It's lots of fun to read together and not as big as you would imagine with 100 pages.There is a single clear illustration on each page so you can move through many of the sounds quite quickly.
The inside front cover has smaller illustrations and words from the book.
I can imagine him "reading" this later on his own and saying the sounds himself.
( See some more pages on the publishers website above.)
Whats next?
I think we're ready to put together a little plastic photo album of people, toys and things in his world. Watch this space!
Resources to support reading with toddlers.
Early Words tipsheets and small posters : birth, 3 months, 6 months, 12 months, and up to school age.(also in many community languages)
Bookstart have a fabulous online resource- a young child reads a story about a baby's day with large photographs on each page. You can stream a version with ideas about what to talk about on each page.
This is helpful for both families and educators (if your baby or toddler will sit still long enough) to develop language by asking some questions.
Australia's Raising Children website
http://raisingchildren.net.au/articles/reading_with_baby_pip.html
http://raisingchildren.net.au/articles/pip_reading_with_toddlers.html
Both these articles with pictures and simple text can be turned into PDFs. Good for a diverse range of families.
Where can you access books for toddlers?
Your local library has many books and is free!Most libraries now stock board books for babies and toddlers
Try your local independent bookshop such as The Childrens Bookshop, Beecroft,NSW.They give good advice for choosing appropriate books
Large Department,Book and chain stores (such as ALDI, K Mart, Big W,David Jones, Myer, Angus and Robertson,Dymocks – all in Australia)
Booko (online) compares prices from different sites
There are a number of Australian and international book buying sites, including Booktopia,Story Mama and The Kids Bookshop
Keep a list to check at garage sales or book fairs.
All views expressed in this blog are completely independent.Books have been purchased or borrowed from our local library.