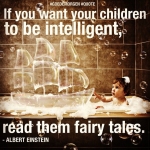 Books are a gateway for children to develop their own imagination. Imagination leads to creativity.
Creativity leads to many different ways of  learning -essential in coming years, where many children will have to reinvent their careers as adults.
I always think of the "Lion the Witch and the Wardrobe" as a visual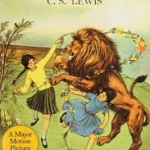 symbol of opening a door to another world, and this is what picture books do for young children.

Yummy.
One of the most popular books on our 100 Stories Before School booklist is "Yummy" by Lucy Cousins.(Walker books) It is a collection of 8 fairy tales including Little Red Riding Hood, The three little pigs,The Three Billy Goats Gruff,The enormous turnip,Goldilocks and the Three Bears,The little red hen and The musicians of Bremen.All stories have something to do with eating in them,maybe the reason for the title!
Lucy Collins is also the author and illustrator of the Maisy books.These pictures are strong, bold and in primary colours for maximum impact.Whole pages are suffused in colour and I think that's one of the reasons children enjoy the story experience.When the wolf swallows Grandma whole, the picture is over 2 pages with an enormous GULP  as part of the illustration.Father Bear is almost as big as the book page (and it's a larger than normal book) with big black words "Someones been sitting in my chair"
Some recent stories soften the stronger elements of these traditional tales. All the preschoolers we have read this to absolutely love this unabridged version.As soon as you bring the book out, their faces light up.The 2 little pigs get eaten, along with Red Riding Hood's Grandma, the wolf falls into a pot of boiling water.

Resources
After the first reading we read Little Red Riding Hood together with  a few props . (Ikea had a wolf ( Lufsig) that can swallow Grandma and can be opened up to get her out- Amazing!)  and baby doll bassinet for Grandma's bed.You could also use a red cape from a $2 shop, children to stand as trees in the forest,a small basket,make believe – or real, food.
Sparklebox has Little Red Riding Hood printable masks,and other resources.
Better Beginnings has a PDF download for activities for "Yummy"
We've put many activities for Little Red Riding Hood on our 100 Stories Fairy Tales,Traditional stories and Nursery Rhymes Pinterest Board.
Booktrust has a Yummy e card you can send.
After reading this we followed it up with a new favourite .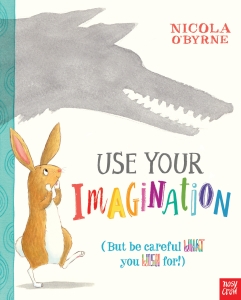 Use Your Imagination (But be careful WHAT you WISH for)
It's a twist on Little Red Riding Hood, with an unsuspecting hero who triumphs through using his imagination.
Use Your Imagination (But be careful WHAT you WISH for) by Nicola O'Byrne, Nosy Crow, has a big bad wolf (who says he is a librarian!) and a rabbit who is bored until he makes up a story with wolf, puts on a red cape and goes into the forest.
You can tell by the long shadow of wolf on the first page, rabbit, who is a joyful,fun loving character, is in for trouble.
The unexpected ending happens when rabbit realises he can change the end of the story with his imagination.
The more times children read the book the more clues they will find relating back to Little Red Riding Hood.
It's a book children could experience to help develop even more ways of telling stories .There is even a big fold out page with a countdown- and a rocket……I'm sure children will be looking for a big box to replay that part of the story.We also found a rabbit for storytelling at Ikea.
To develop innovative thinking ask "How could you change the end of ??? ( another story they love or another traditional tale.)
We love the cut out square in the back cover that rabbit is going to climb through to find more exciting imaginative places and characters.Take a look inside the book at the Nosy Crow website.
Use Your Imagination has been nominated for a number of awards in 2015: IBW Awards (shortlisted), Teach Primary Book Award (shortlisted), Kate Greenaway Medal (nominated).
For other Little Red Riding stories check out:
https://booksmykidsread.wordpress.com/2013/12/12/the-various-tales-of-little-red-riding-hood/
https://litforkids.wordpress.com/2013/06/01/little-red-riding-hood-around-the-world/
A final word from Neil Gaiman, an author.