Starting Big School is a very special, and sometimes overwhelming, time in young children and their families lives.
I can still remember our first child starting school, wearing the same jumper his father had worn, knitted again by his Nana.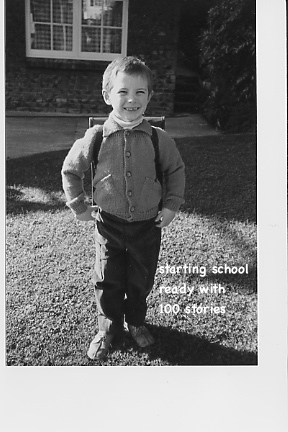 Sharing stories together enables children to ask questions about big school and explore their emotions about a new time in their lives.
We are publishing a series of posts,including one of the importance of making your own stories, about things individual children think about starting school.
This first post has a range of carefully chosen (mostly) Australian stories.
There are many quality overseas stories, which we will focus on later .
Australian stories follow the rhythm of the communities we live in.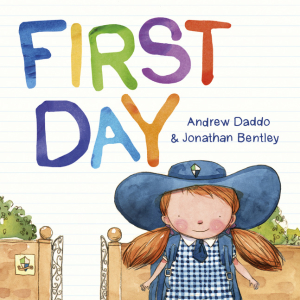 First Day by Andrew Daddo and Jonathon Bentley. Harper Collins , available as e-book,hardback and paperback. Harper Collins link.
Mum is enthusiastically getting her child ready on the way to the first day of school. There's lots of positive talking about school.The most up to date book we've read with a selfie.The Mummy Project has a review: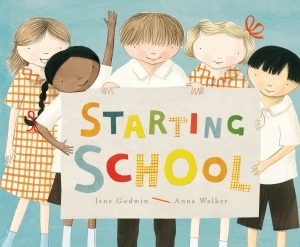 Starting School by Jane Goodwin and Anna Walker. Viking.                                                                                                                                               This story follows 5 different children (Tim, Hannah, Sunita, Joe and Polly) starting their first day at school.The routine of the school day and how everyone reacts to their new environment and friends, allows for story reading to a range of children, who will all experience school in their own special way.Each section could be read separately to talk about things including "Around the School","In the playground"" New things to get used to".                                                                                                                                                                                                                   Kids Book Review has more detail.   Penguin has teaching notes, ability to look inside the books and tips for starting school for families.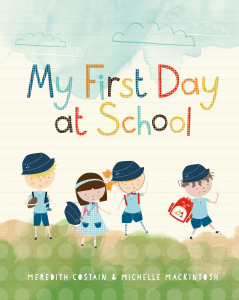 My First Day at School by Meredith Costain, illustrated Michelle Mackintosh, Windy Hollow Books.
Knowing "the rules" at school has been proven to be very important to children starting school.Parents often want their children to have friends and be happy.This book also follows 4 very different children -Amira,Zach,Zoe and Ari.
Find an excellent reviews at The Book Chook.  or Kids Book Review.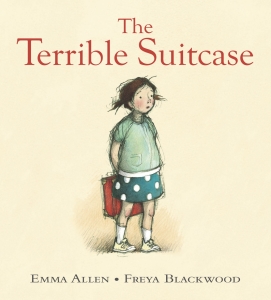 The Terrible Suitcase by Emma Allen, illustrated by Freya Blackwood, Scholastic through Omnibus.
Winner 2013 Children's Book Council of Australia Early Childhood book.
The little girl starts her first day at school grumpy, as she didn't have the school bag she wanted. She ends up making friends using her suitcase to play wonderful imaginary games.
Our  Educators Terrible Suitcase resource sheet  has resources linked to a theme "Read Across The Universe".(The book is now back in print.)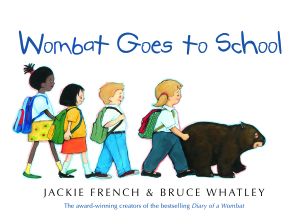 Wombat goes to school by Jackie French and Bruce Whatley, Harper Collins. Also available as an e-book. Harper Collins link. 
Jackie's lovable wombat is back again( "First seen in Diary of a Wombat" and also "Wombat Wins")
Jackie is the 2014-15 Australian Children's Laureate.
Wombat Mothball has a good fossick around to find out what school is about.
(This can also be read with younger children in a different way, following the lovable wombat Mothball causing havoc.)
"She eats. She sleeps. She scratches. She goes to school… She sleeps. She eats. She scratches – and finds a hole. When Mothball discovers a new hole, it unexpectedly leads her to the local school. the children learn that wombats love carrots and grass, while Mothball learns that lunch boxes contain very few carrots, that sports sheds can be a good place to have a nap, and that when you're brown and round, it's not a good idea to get too close to a ball … " From Harper Collins website.
Kids Book Review for more information.
Lamont books has teacher notes which can be adapted for early educators, particularly the questions to extend the story reading.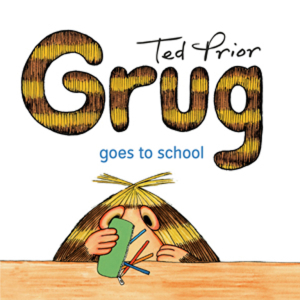 Grug goes to school by  Ted Prior. Simon and Schuster.
Grug is a truly unusual Australian character."Once the top of a Burrawang tree fell to the ground and became Grug!"
He is a curious creature and decides to find out all about school.This book easily lends itself to children pretending to be Grug".
See more at the publisher:
The Little Big Book Club has Grug goes to school – activity time and learning time (PDFs)
http://www.thelittlebigbookclub.com.au/titles/grug-goes-to-school
Learning time has a story and rhyme session- how to read the book, some simple activities, school based rhymes and a very cute, easy, Grug puppet to retell the story with.
Activity time-Make a pretend pencil case and other suggestions. The template for pencil case is given on the PDF.
Grug even has his own child friendly website– make an e-card to send , resources for a Grug birthday party,colouring in sheets and more.
If you would like to see what Grug looks like there are two good Youtube versions. We've chosen the Claymation with didj background.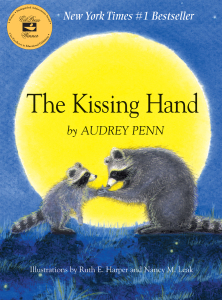 The Kissing Hand by Audrey Penn. Tanglewood Press.
This story about a loving Racoon Mother and child is more about the emotions leaving Mum to go to school, just lovely for parents as well as children-both are going through transition! Mother Racoon thinks of a special way for her child to remember how much she loves him when he is at school.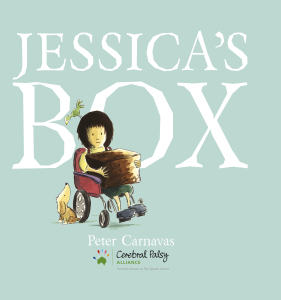 Jessica's Box by Peter Carnavas. New Frontier publishing.Two versions, the latest is a Celebral Palsy edition, with Jessica in a wheelchair- there is no change in the text.
Jessica is trying to make friends when she starts school. She brings something new in her large cardboard box each day that she hopes other children will be interested in.Is it working? How do you make new friends?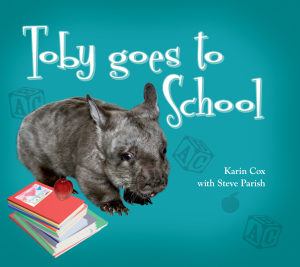 Toby goes to School by Steve Parish and Karin Cox. Steve Parish publishing.A photograph book and non fiction type book. Also available as an e-book. A different type of book for children who may respond well to this format.                                                                                                                                                                                                                                                            Toby, the rescued Southern Hairy Nosed Wombat lives with his human family.He really wants to go to school with the children but how is this possible?
Aboriginal:
READY FOR SCHOOL, WILCANNIA: A resource for parents and families, written by Patrick Ellis & the Paakantji Language Circle, NSW, 2014.Indigenous Literacy Foundation.
"Ready for School, Wilcannia has been developed for the Paakantji people of New South Wales. The picture book is aimed at helping parents and families prepare their kids for school through early learning at home and in the community.
The idea for the book came about when parents of Wilcannia community were concerned about their children not being ready for school. Through conversations with the principal of the school, Patrick Ellis, the parents expressed the need for such a book.
"Reading opens our murrpa eyes to the world. Let's give our murrpa the tools to broaden our world. Ready for School, Wilcannia book is a tool to help achieve this." – Uncle Murray Butcher, Coordinator Paakantji Language Circle."From the Indigenous Literacy website.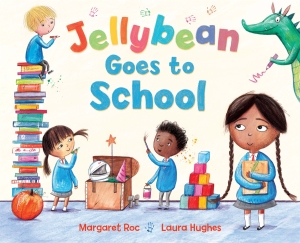 Jellybean goes to school Random House ,Margaret Roc, illustrated Laura Hughes.Also as e- book.
Margaret Roc is an Australian author.
"Jellybean is a little girl longing to learn about the world and make friends. But is she ready to leave Mum behind and start school? At first Jellybean is nervous, but her new teacher brings magic into the classroom. And Jellybean's imagination brings her new surroundings to life in many wild and wonderful ways."                                                                                                                                        Random House has a teacher and parent activity.
Send a jellybean  e card at Booktrust.
Download a 100 Stories Before School GettingReady for School Booklist PDF of the above books and many more titles .This list includes books for starting School,Preschool,Indigenous and dual language books.It also has a list of a variety of places to purchase books.
Our next post will give resources and ideas for social and home made stories about starting school.
All opinions expressed are completely independent.Books have been purchased independently or sourced from the library.