So….what's a 'little street library"?
It's a small community library offering free books to your local community.
Most libraries encourage swapping a book for a book.
I don't think it matters, as long as there's always enough books in the street library to choose from.Our library will have a mixture of kids and adults books, with some from the 100 Stories Before School booklists.
We live on a commuter street by a train station. I've left magazines out before for people to read on the train, but this is much more fun!
I'm going to a Sydney workshop run by Street Library to make a proper little street library to put beside our letterbox.
I'm going to their September workshop – there's another in October.
Their mission : to encourage literacy and to encourage community.
You can even buy ready made libraries from them – their Newtown special is pretty cute.
Competition for OOSH children
Street library also have a competition for OOSH children to make and colour a design for a street library- 5 to be won.The competition closes September 30th 2016
More plans and help
Street library have a build page to do your own.
The little free library site ( American) has lots of plans and help.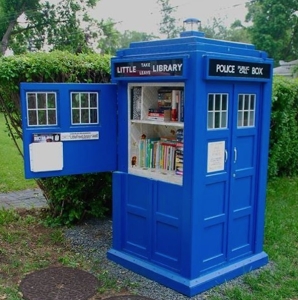 Pinterest has a wealth of ideas- my favourites are :                                         "RS2D2 Star Wars" ,built by 6th graders in Odessa, Texas,                                            "Dr Suess plant a seed,read", and                                                                                      "Books are windows on the world".                                                                                  Little Free Libraries Pinterest page                                                                                  There's even a little library with dog biscuits inside and a water bowl at the bottom.
Instagram ideas                                                                                                                                 Preschools and Schools:                                                                                                       If you're a Preschool or school why not set up your own street library?
This  wonderful initiative away books to the homeless in Sydney, Brisbane, Melbourne and Perth. (You can donate and help.)
"…When family friend Benjamin Andrew died unexpectedly, Sarah responded to her grief by volunteering with a group serving meals to homeless and disadvantaged people in Sydney's CBD.
One evening, Sarah noticed a man sitting under a streetlight reading a novel while waiting for the food van, where she volunteered. She started bringing him a few books and it was from this humble beginning that the original The Benjamin Andrew Footpath Library grew…"( taken from website)
Little free library takes off in Melbourne
We'll post the completed library when erected! (Extra note- We're not clever enough to do a Tardis!)