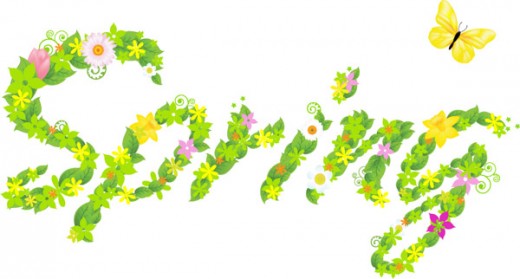 Spring is a time of new growth- baby animals, spring leaves and flowers, rain and warmer sunnier days.
We can help kids experience the change of seasons happening all around them.
It's a time to celebrate change and support kids "learning to look" in greater detail.
For quality new picture books set in Spring check our first Spring post.
One of the best things I've done with kids is to grow giant sunflowers in small pots to take home. Some of the kids came back later with pictures of the sunflowers taller than them!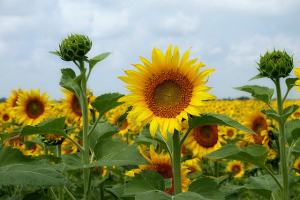 Sunflower photo credit Ken Slade Flickr June 1 2014.Sunflower field 04 http://bit.ly/1LMJybe
The Tiny Seed
A book we've read many times, first given to our young son in 1988, is "The Tiny Seed" by Eric Carle, Penguin/Puffin in Australia.
The Story starts in Autumn and follows a tiny seed blowing  past the sun, the mountains,the ocean to sleeping in the earth ,ready for Spring.It follows the cycle of life, through to the flowers dispersing their seeds to blow around the world again.The story has stood the test of time, read by countless millions of children since 1987.
Try this video for an idea of the story.
The Eric Carle website has teacher ideas.
Pinterest has heaps of boards on The Tiny Seed.
https://www.pinterest.com/laurla542/tiny-seed-unit/
Our best pic is the Spring growth board (up the wall) from Sparklebox.
https://www.pinterest.com/pollyannaflower/the-tiny-seed-by-eric-carle/
Our pic here – painted flowers like Eric Carle from Rubber Boots and Elf Shoes.
The always useful "Educators Spin On It"- has seed books, ideas and links.
Teach Preschool has an interesting  seed play based post.
Felt Boards
Storytime Katie has a felt board where she slowly pulls out each section of the seed cycle, from under the ground. This could be easily adapted for the Tiny Seed Story.
Songs and Rhymes
It's often raining in Spring….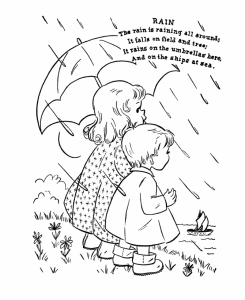 I hear Thunder
I hear thunder (Drum feet on the floor)
I hear thunder, (Drum feet on the floor)
Hark! Don't you? (Pretend to listen- hand to ear)
Hark! Don't you? (Pretend to listen- hand to ear)
Pitter patter raindrops (Make rain come down with your fingers)
Pitter patter raindrops (Make rain come down with your fingers)
I'm wet through! (shake body vigorously)
So are you! ( shake body vigorously)
From the BBC–Its raining, its pouring!
Spring songs for preschoolers from Teaching mama about kites,farmers,Spring,beehive,bunnies,baby chicks and ladybirds (with PDFs)
Kids Music have some Spring songs.(They include Easter songs- not appropriate for Spring in our Southern Hemisphere!)
Books with Crafts and Experiences
The Picture Book Professor has a selection of books with an activity for each one. It includes:
The Tale of Peter Rabbit by Beatrix Potter
The Very Hungry Caterpillar by Eric Carle (numerous awards and published in 40 languages)
Make Way for Ducklings by Robert McCloskey (Caledecott Award winner)
The Curious Garden by Peter Brown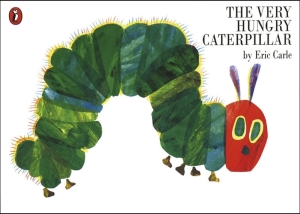 Little White Rabbit by Kevin Henkes
My Garden by Kevin Henkes
Spring by Gerda Muller
Planting a Rainbow by Lois Ehlert ( see our other Spring post here)
Tap the Magic Tree by Christie Matheson
The Runaway Bunny by Margaret Wise Brown
Each book is paired with an easy interactive and colourful craft/activity.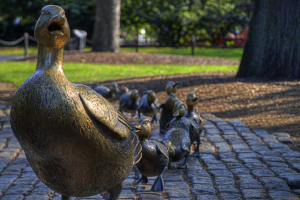 Our firm favourite, "Make Way for Ducklings" has been a loved choice of families  since 1941.
In 2016 it will be 75 years old and just as popular as ever.
The sepia illustrations and 1940's city cars, shops, policemen and buildings are delightful.How are Mother and Father Duck going to get their ducklings across the busy roads to the lake?
The city of Boston now has a special sculptures of the ducks in the park the book was set in .
Movement to music
From BBC radio playtime spring 2015 ( PDF here)
Children roll into a tight ball shape to begin a growing sequence as a bulb deep down in the soil.
With the music they stretch up their arms, twisting and turning to show the shoot growing towards the sun.
Standing up they make a tight bud shape with hands clasped together before slowly opening their fingers to reveal the petals of a flower.
Nurture gardens together
It's just the right time to start a spring garden with the kids.
Garden Drum has an article from the Stephanie Alexander Kitchen Garden Foundation, with a series of clear steps to start a kitchen garden in your Early Education Centre or school.
Take some photographs and make a story of seed/seedling to plate!
If you've been reading some of the Spring stories in our last post, you could make a flower garden.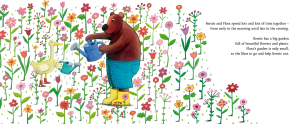 Garden Drum also has an article on "How to create an Australian wildflower garden".
Finally read Jack and the Beanstalk- you never know where those beans could take you!