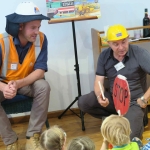 Our little suburb has a lot of construction happening, including a third rail track. The children's playground is temporarily closed and there's lots of dust and noise.
Paul from The Children's Bookshop at Beecroft had a brilliant idea to present a "Construction" story time.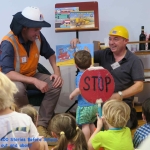 Two big , burly, and really quite tall construction workers, who had been at work since 7 that morning arrived to read stories about gigantic machines and answer questions.The room was full of excited preschoolers and toddlers, parents and grandparents.It was almost as if the characters had walked off the book pages and into the room.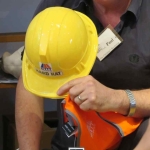 The ETTT, who is constructing the line,gave the workers time off to read and also provided yellow hard hats and fluoro vests for the children to go home in.
It's a positive example of using story time to bring communities together where there is potential for tension and upset.Well done- both to The Children's Bookshop and the ETTT for demonstrating an easy example to follow.
Some of the books read were in our family 100 Stories Before School Booklist, or are in consideration for an addition to the list.

Dig ,Dig, Digging by Margaret Mayo and Alex Ayliffe, Hachette.(already in our list.)
"Diggers are good at dig, dig, digging. They can work all day! This noisy, busy, bestselling book with fun rhyming text and bright, bold artwork is jam-packed with diggers, tractors, rubbish trucks, fire engines, cranes and other favourite machines. Perfect for machine-mad little ones!"( Hachette website)

Construction by Sally Sutton and Brian Lovelock,Walker Books.
This is one of 3 books, available in hard cover, paperback and board book.The  other two are Roadworks and Demolition.They are very interactive-full of wonderful sounds and banging and crashing. (strong contender for the 100 Stories list addition, coming soon.)

The Little Yellow Digger Series by Betty and Alan Gilderdale, Scholastic(NZ)

.

This series of books has stood the test of time and has remained current, with one story being The Little Yellow Digger Saves the Whale.
Maisy's Digger by Lucy Cousins,Walker books

.

If your children love Maisy, here's another adventure to add to the list.                                                                                                                       "Have fun with Maisy in this digger-shaped board book from the multi-award-winning Lucy Cousins. Dig, dig, dig! Maisy loves being in her digger and today she is digging a pond in her garden! Eddie fills the huge hole with water, Cyril plants some flowers around the edge and all that's needed now is some fish. Plop, plop, plop! What a busy day! This super-sturdy board book is ideal for teaching first words in a fun way and also comes with wipe-clean pages, perfect for messy hands! It's more fun with Maisy! "( Publishers website )

All books available through The Children's Bookshop.

Check out our post:Stories for Wriggly Little Boys

If you use Pinterest, a Children's Librarian from "A Book Long Enough" has recommended a number of other construction based books.