How do you  find books for younger boys, that hold their interest?
You don't always need to read a whole book, when children's attention is shorter.
You can just look at the pictures and chat a little about them.
Even if you read half of a book, it's a start and you can come back to it later.
Over time,the more you read, the more children's concentration can increase.
We've checked our 100 Stories Before School  list for books that  younger children love, and sourced some newer books.
Books with a song, rhythm and rhyme.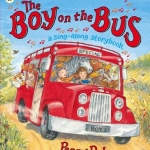 The boy on the bus drives round and round, round and  round but who wants to ride on his bus? Ducks.Pigs.A horse.Who else?A host of more noisy animal passengers!So jump on board the bus and get ready to join in and sing along with this energetic nursery song.Ding -ding!Off we go!Always a success in group storytimes.
The Boy on the Bus by Penny Dale, Walker books.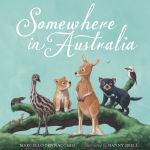 This book was recommended for our list by early educators.
Find and hear the calls of all the Australian animals in their homes-the outback,rainforest,river and scorching sun-based on the rhyme of "over in the meadow"
Somewhere in Australia by Marcello Pennacchio,illustrated by Danny Snell,Scholastic Australia.
A series of holes peeping through to the next page leads us on to the next stage in the babies day, giving a hint of what is to come.
Each page starts with "Here's a little baby, one, two three.." and the word "Peepo !" when we turn to the next page.
Peepo! by Janet and Allan Ahlberg, Puffin/Penguin.
Bright and colourful books.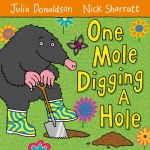 A rhyming counting book from 1-10, finding all the animals doing the gardening.How cool do they look in their sunglasses?
One Mole Digging a Hole by Julia Donaldson, illustrated Nick Sharratt,Macmillan books.
Books about BIG machines and Dinosaurs
Books about machines can be read with lots of sound effects.
Dinosaurs are just exciting! See our posts about Dinosaurs here.
Dinosaur Rocket by P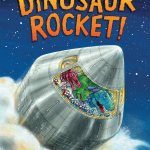 enny Dale, Nosy Crow books, is from her series of Dinosaur books.It has loads of sound effects with a count down to and from the moon.More about the story here.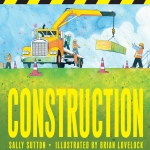 Construction by Sally Sutton, illustrated by Brain Lovelock, Walker books, is the third in her series of books where children feel they are right in the middle of the action.
Action words "Dig the ground.Dig the ground.Bore down in the mud.Shove the piles in one by one.Slip,SLAP,THUD." lend themselves to action.Imagine children doing all the actions as you read the book.                                                                                                                   Construction is short listed for the New Zealand 2015 picture book of the year.
Other titles: "Demolition"and "Roadworks".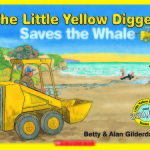 The well loved (over 20 year old) Little Yellow Digger saves the day in many different places, in a series of 5 books .
The Little Yellow Digger Saves the Whale by Betty and Allan Gilderdale, Scholastic New Zealand.
Other books: ( Also seen in board and activity book format)
The Little Yellow Digger.The Little Yellow Digger at the Zoo.The Little Yellow Digger Goes to School.The Little Yellow Digger and the Bones.The Little Yellow Digger stories.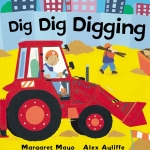 Look for diggers,tractors,rubbish trucks,fire engines and cranes in this rhyming book for younger children.
Available as a paperback, hardback ,board book, on iTunes and kindle.
Dig Dig Digging by Margaret Mayo, illustrated by Alex Ayliffe,Hachette.

Children and their early childhood teacher love acting out all the things firefighters do.Lots of sounds and movement happen when you're fighting fires!
The Firefighters by Sue Whiting, illustrated
Donna Rawlins,Walker Books.
Can you add to our list- we'd love to see more tried and true books for those wriggly boys!