We're always looking for quality picture books with Aboriginal themes.
Both these books have been nominated for Speech Pathology Book of the Year 2015 ( Birth- 3 years).
We think they would be excellent revisited as early readers.
" Summer Rain" by Ros Moriarty, Illustrated by Balarinji. Allen and Unwin.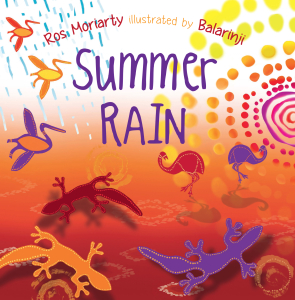 Summer Rain is set in the wet season of Northern Australia. This is a time when the whole landscape can come vibrantly to life after a torrent of rain.
The story follows a day from sunrise to sunset and the evening.
We watch the Australian land, plants and animals respond with growth, colour, and movement.
The story lends itself to simple dramatization with action words such as "crawl", "creep", "strut" and "shed".
The colours flow from page to page as the day moves towards evening, finishing with "dancers leap in silvery light" a celebration of Aboriginal connectedness with their land.
"Splosh for the Billabong" by Ros Moriarty,
Illustrated by Balarinji. Allen and Unwin.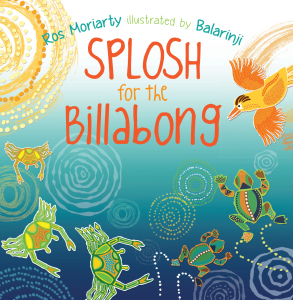 The title gives a hint of the melodious rhythm of the story.
We follow the rain cycle, where the thunderclouds start to bring the sound of the rain changing the environment.
You can almost feel the sounds and places-the billabong water, the flowers around it, the tree roots, the birds and fish who whoosh and swirl.
It makes you want to jump into the mud and water to feel them on your skin.
All the sound words such as "scratch" , "squelch", "splat" finally lead to a child making a picture with paint.
The story portrays that tactile world of childhood we have often forgotten ourselves.
Authors will tell you how difficult picture books are to write.
The ability to portray many aspects of life, in few words, is a gift that must be continually fine tuned.
Most pages in these books only have 1 sentence. The combination of thoughtfully chosen text and bright colourful indigenous illustrations gives an immersive experience.
For more Aboriginal book links see our Australian Aboriginal Stories Pinterest board
Details:
"Splosh for the Billabong" and "Summer Rain" by Ros Moriarty illustrated by Balarinji.
Yanyuwa translation of text John Bradley (spoken by Aboriginal families in Borroloola,Northern Territory.) The translation is on the last 2 pages of the book.
Allen and Unwin, paperback, also available as ibook.
A proportion of funds raised supports Indigenous kids through Indi Kindi Early Literacy Education.
http://www.nangalaproject.org.au/indi_kindi.html
See other books on Ros's site:
Her "Ten Scared Fish" is included in the 100 Stories Before School list as an Aboriginal and maths based counting book.
Books provided by Allen and Unwin, Publishers.
All 100 Stories Book Reviews are completely independent .
We only review books that we feel will be valuable for our prior to school audience.