We're ready for some warmer weather, spring flowers and walks outside.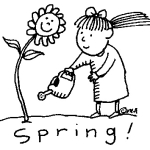 But where could we find picture books about Spring- there didn't seem that many in this part of the world.
Success! after some searching, here are our picks.
We'll add  rhymes and more ideas for spring in our next post. Our wonderful Australian author Elizabeth Honey has a book about Tom and Mr Yilmaz next door-
That's not a daffodil! by Elizabeth Honey,Allen and Unwin.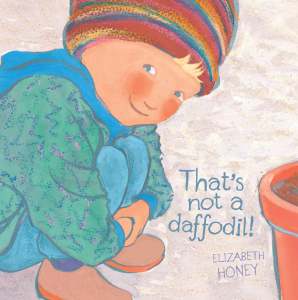 Commended, CBCA Book of the Year Award – Early Childhood, 2012. Short-listed, Speech Pathology Australia Book of the Year Award for Young Children, 2012
Read a review from Kids Book Review here
This would be a great book to read before planting some bulbs or seeds and waiting for them to come up.
Another book, (also shortlisted for the Speech Pathology Awards) that includes Spring is:
The ABC Book of Seasons by H Martin and J Simpson, illustrated by Cheryl Orsini.Harper Collins.
Available in e-book or hardcover.
There's lots to discover in the clear bright illustrations for each season."Seasons come, Seasons go..Sun shines…winds blow..rain falls…plants grow" There's a strong cycle illustration through the book to help children understand the natural rhythm of their world.
 The 
Little Bookroom
 in Melbourne highly recommended our next choice.( lucky to visit late last year!)
The Great Garden Mystery by Renee Treml, Random House Australia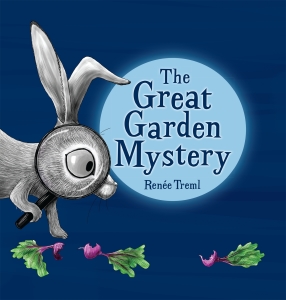 "Someone is stealing the beetroots, who could that somebody be? Join us in the garden and we'll unravel this mystery. A mix of clever Australian animals examine the evidence, but can this cluey cast catch the thief before they strike again? This beautifully illustrated picture book is perfect for reading aloud and features a cast of Australian and other animals that will delight both young and older readers."
It is also shortlisted for the 2015 Speech Pathology Awards.See more at 
Random House Books
We're now all keen to grow our own vegetables and spring is just the right time to start.
Follow up reading this book with planting some easy veges in a tub .Or even trying beetroot !
Bernie loves Flora by Annemie Berebrouckk, Book Island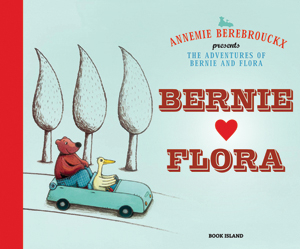 "Bernie the bear and Flora the duck have been best friends for a long, long time.They enjoy the same things and love to work together in Bernie's garden,where he grows the most beautiful flowers.
But one day Flora arrives at Bernie's house to find his flowers have all disappeared! And there's no sign of Bernie either.
Who has taken the flowers? And why? Flora turns detective and questions Bernie's friends.
What she eventually discovers is even more beautiful than Bernie's garden."( Book Island website)
This book has had 
reviews
 mentioning the beautiful way friendship is shown.
The flowers theme is just right for a Spring story .The idea of working together in a garden leads children to a different way of valuing nurturing themselves, through their environment.There is even a list at the end of flower meanings- did you know each colour rose has a different meaning?